HOIN 58mm USB Thermal Printer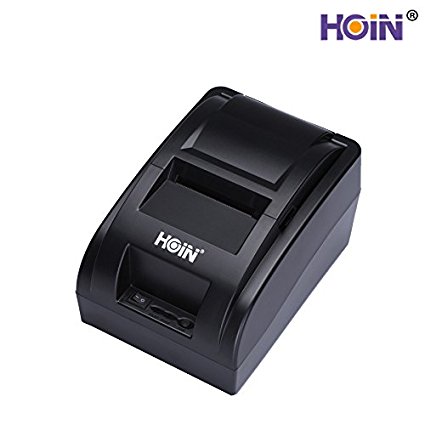 Description :
This thermal printer is designed for network and kitchen printing. 58mm and 80mm adjustable printing paper width, 300mm/s of high speed printing with excellent water resistant, oil proof, dustproof structure design. Print status real-time monitoring and large input buffer, which can efficiently avoid losing bills. Embedded a for IE server, more convenient for configuring printers, perfectly beyond the performance of most of similar products, let you enjoy a high-quality print experience.
Features:
300mm /second ultra high-speed printing, greatly improve the printing efficiency.
Excellent water resistant, oil proof, dustproof structure design.
Wall hanging design for special environment printing.
Movable baffle design, support 80mm and 58mm pringting paper width.
80mm large diameter rolls.
Support printer monitoring function, to avoid losing bills.
Auto recover printing function.
2048K large input buffer to avoid losing bills.
Support LOGO graphical download and print.
Support 1D bar code and 2D QR code bar code printing.
Support bill remind and error alarm.
Support black mark orientation and re-print.
GB18030 Large font.
Support multi language printing.
Universal USB+COM+LAN interface.
Built-in Web server, configuring printer by IE browser.
Compatible with ESC/POS print instruction mode.
Support for Windows, for Linux, for Android and iOS system printing(iOS only for Bluetooth, WiFi, GPRS).
Apply to shopping malls, restaurants, stores, warehousing, taxation, banking, medical, postal, etc.
Specifications:
Brand: Hoin
Printing method: Thermal line
Printing width: 72mm
Resolution: 576dots/line & 512dots/line?8dots/mm?203dpi?
Printing speed: 300mm/second
Interface type: USB+COM+LAN(100M)
Line spacing: 3.75 mm?Can adjust line spacing by command?
Line No.: Font A: 48 character/line, Font B: 64 character/line, simple/traditional Chinese-24 lines
Character: Standard GB18030
Character size: ANK character?Font A?1.5 * 3.0mm?12 * 24 dots?Font B?1.1 * 2.1mm?9 * 17dots? Simplified/Traditional Chinese?3.0 * 3.0mm(24 * 24 dots?
Extended character set: PC437/Katakana/PC850/PC860/PC863/PC865/WestEurope/Greek/Hebrew/EastEurope/Iran/WPC1252/PC866/PC852/PC858/IranII/Latvian/Arabic/PT151,1251/PC737/WPC/1257/ThaiVietnam/PC864/PC1001/(Latvian)/(PC1001)/(PT151,1251)/(WPC1257)/(PC864)/(Vietnam)/(Thai)
Bar code: 1D bar code?UPC-A/UPC-E/JAN13(EAN13)/JAN8(EAN8)CODE39/ITF/CODABAR/CODE93/CODE128/
2D bar code?QRCODE
Graphics printing: Supports bitmap download and print
Cutter function: Full cut/half cut
Paper type: Thermal
Paper width: 79.5 0.5mm
Paper diameter: ?80mm
Paper feed method: Easy feed
Printing commands: ESC/POS
Power adapter input?AC 100V-240V, 50-60Hz
Power adpter output?DC 24V/2.5A
Power adpter type: US, UK, EU (optional)
Casher drawer output: DC 24V/1A
Input buffer: 2048K bytes
NV flash: 256K bytes
Working temp?5~45??Humidity?10~80%
Storage temp?-10~50? ?Humidity?10~90%?No dew?
Print head life: 100KM?print density?12.5?
Cutter life: 1000,000times
Item color?Black
Item size: 18.6 * 14.5 * 13.3cm / 7.32 * 5.70 * 5.23in (L * W * H)
Item weight: 1000g / 2.204Lb
Package size: 27 * 21 * 16.7cm / 10.62 * 8.26 * 6.57in (L * W * H)
Package weight: 1880g / 4.144Lb
Package List:
1 * Thermal printer
1 * Power adapter
1 * USB cable
1 * CD
1 * Roller
1 * Pressing board
1 * Roll of printing paper
1 * User manual (English and Chinese)